February 10
You can listen to two unreleased tracks of 3T on their
MySpace
account. The songs are called "Lost In Your Love" and "When I Look In Your Eyes". These tracks are from "The Lost Album".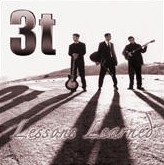 There's also a new post by the guys on the 3T Myspace Blog. They can't make the songs available in MP3 format, because they are owned by Sony. That's why it's only possible to stream the tracks and 3T are asking you to please respect that decision. Taj, Taryll and TJ are thinking about re-recording a few songs from "The Lost album" for the brand new album. But if they already show up as MP3 on the internet, there's no purpose on re-doing them.
February 6
Taj on MJJF Radio
MJJForum.com is proud to present our new and improved radio station, MJJF Radio! MJJF Radio is hosted by live365.com!
MJJF Radio will be giving away blockbuster prizes and merchandise! Want tickets to some of the hottest Michael Jackson fan events, like MJNewsonline's Visionary Event? Tune in to MJJF Radio to learn how YOU can win! We are even giving away merchandise signed by The King of Pop, Michael Jackson!
Are you still undecided about listening to MJJF Radio? Well, we have an exclusive interview with [b]Taj Jackson[/b], member of 3T! Taj is stopping by The 12 Inch Show to give us the 411 and to answer your questions! You can submit your questions to: 12inchshow@mjjforum.com. DJ Thijzzz and DJ Arved are the hosts of The 12 Inch Show and The Basement! Tune in!
MJJF Radio plays all the hottest jams, remixes and mega mixes from Michael Jackson, The Jackson 5, The Jackson family and more! New shows will be added weekly, so please tune in!
Point your browsers here: http://www.live365.com/stations/mjjforumradio
February 5
Site update
Video of the month - February :)
Hope you'll like it.